Technological advancement for RRH with the arrival of new defibrillators
Ridgecrest Regional Hospital has recently received nine Zoll R Series® Defibrillators. The purchase was a result of the decision reached by the Ridgecrest Regional Hospital Corporate Board of Directors approving a one-time expenditure of $165,000 to purchase the units. This recent purchase brings the hospital's total up to twelve units, following an initial investment last year for the first three units.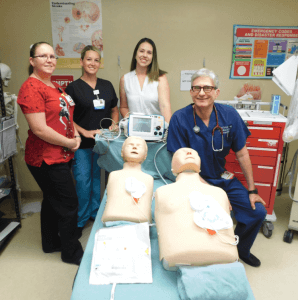 This purchase accomplishes a major goal for Ridgecrest Regional Hospital, in achieving standardization of defibrillator units across the entire campus. Previous defibrillator units had reached their end of life and were produced by various different manufacturers, causing numerous problems for those working in several departments throughout the hospital. "By investing in this new and advanced technology, Ridgecrest Regional Hospital is demonstrating its commitment to improving patient outcomes, efficiency and safety," said James Suver, CEO, Ridgecrest Regional Hospital. "It is vital we stay current on all of the tools we provide to our employees, to ensure they can perform to the highest level for our patients."
Breanne Chromi, RN, Emergency Department Manager added, "We are thrilled to now have access to the same defibrillator through-out the entire hospital. The machines all have "see-through" capabilities, which means we are able to assess the heart rhythm without stopping CPR, which is crucial. Every time we stop CPR, the brain loses blood and oxygen, in turn leading to a poor outcome neurologically. This really is a life changing investment for our patients."
The new units are also in adherence to the American Heart Association's (AHA) Get With The Guidelines ® (GWTG) quality measures and will ensure Ridgecrest Regional Hospital is using state-of-the-art, certified technology to consistently deliver high quality CPR, optimum defibrillation and treatments for all patients.