David Mata Celebrates 100th Birthday At Rrh Skilled Nursing Facility Bella Sera
PRESS RELEASE
Contact:
Jayde Glenn, Marketing Director, 760-499-3910, jayde.glenn@rrh.org
For Immediate Release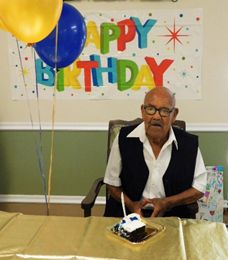 Monday, October 1, 2018, RIDGECREST, California: On Friday, September 14, 2018, David V. Mata, celebrated his 100th birthday at the Bella Sera Skilled Nursing Facility, a service of Ridgecrest Regional Hospital, where he has resided since December 2014.
Mata was born on September 14, 1918, in Tijuana, Mexico and has 5 children (3 sons and 2 daughters). Mata is a naturalized U.S. citizen having moved from Mexico, as a young man, to Holtville, CA in the 80s. He moved to Ridgecrest in 1983. Mata worked for St Ann School, Ridgecrest and retired at the age of 90. "My dad was always a hard worker," said David's daughter Lucy Huerta. "He could fix anything. He built the house in Holtville where we all lived. My father loves being an American. He is very proud of all his children. He always wanted us to get an education and work hard and we all take pride in doing so."
Joylene Orong, Bella Sera Activities Director said, "David is such a kind and gentleman, we love being able to take care of him. He is a very popular resident here at Bella Sera, so we just knew everyone would want to celebrate his big day with him. Having David's children and family attend the event made it even more special." When asked to describe Mata, staff at Bella Sera used the following words: "storyteller", "compassionate", "patriotic", "watermelon", "kind", "polite", "gentleman", "considerate" and "interesting".
Huerta added, "I would just like to thank everyone at Bella Sera for his party and the wonderful staff that takes such good care of him."
Bella Sera is a 99-bed skilled nursing facility, offering both a short and long term living alternative for those unable to care for themselves. Bella Sera offers a wide range of services including: 24/7 quality nursing care, physical therapy, occupational therapy, speech therapy, respiratory therapy, restorative nursing, skin/wound care, hospice care/respite care, social/crisis intervention services, food/dietary services, activity services, in-house laboratory diagnostics/X-ray and in-house Housekeeping/Laundry Services. At Bella Sera, we understand that being away from home is difficult but we strive to make our residents and families feel at home and to feel that they are a part of the team managing their care. Whether needs are for short-term or long-term placement, we partner with the resident and family to ensure that our residents are given the best care possible right here in the community. Please visit rrh.org/services for more information.
###
Notes to Editors:
About Ridgecrest Regional Hospital
Ridgecrest Regional Hospital is a nonprofit, full service, acute care hospital, accredited by DNV Healthcare. Located in Ridgecrest, California, it was founded in 1945 by Dr. Thomas A. Drummond, who realized the need for medical care, to support the then recently established Naval Ordnance Test Station. Today, RRH continues as the only regional healthcare system providing a variety of services to the rural communities of the Southern Sierra. Our Vision is to be a leader with other healthcare providers in offering the highest quality, patient-centered, affordable healthcare and wellness services to the people of our service area.
The RRH health system currently consists of 78 active medical staff members and advance practice professionals, offering multi-specialty healthcare and state-of-the-art facilities, including Gastroenterology Lab, Cardiology, Dermatology, Orthopedics, Pediatrics and an accredited Sleep Lab, to name a few. The hospital also offers a Cancer Center, as part of an ongoing oncology affiliation with UC Davis Health Cancer Care Network, and is one of only a number of hospitals across the country to install FDA-approved state-of-the-art automated breast screening ultrasound technology in the Women's Imaging Department, clinically proven to increase cancer detection by 35.7%. The hospital has been awarded the ACR gold seal of accreditation in Radiology and Nuclear Medicine, representing the highest level of image quality and patient safety and the Emergency Department has been designated by Kern County Public Health, as a Level IV trauma center, providing stabilization and advanced trauma life support.
Future plans include a new Emergency Room, new helipad for air ambulance services and construction is currently underway for the relocation of the South Medical Plaza. For more information, visit us at: rrh.org/ and Facebook.com/RidgecrestRegionalHospital.