Local Children Hold Yard Sale Fundraiser To Support RRH Seniors Group
PRESS RELEASE
Contact:
Jayde Glenn, Marketing Director, 760-499-3910, jayde.glenn@rrh.org
For Immediate Release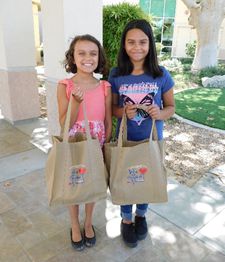 Thursday, September 13, 2018, RIDGECREST, California: Local school-children Natalie Guzman (aged 10) and Tallulah Miller (aged 9) recently donated over $30 of their hard-earned cash to Ridgecrest Regional Hospital's Community Outreach efforts. Miller is the granddaughter of local resident Jimmie Rolof who participates in the RRH community outreach SilverSneakers program for seniors.
Guzman previously attended a number of the RRH community outreach events as a guest with her grandmother, including the SilverSneakers and Journey to Happiness joint Valentine's social, as well as the Hospice Butterfly Release. "Going to all of these events with my grandma made me realize how important the hospital is to her," said Guzman. "She really enjoys going to the SilverSneakers group and so I wanted to raise money to help her keep doing what she loves."
Guzman, together with friend Miller, decided to sell as many toys as they could by holding a yard sale to raise money that could be donated to the hospital. The girls later met with Ridgecrest Regional Hospital's Director of Community Outreach, Tera Moorehead, where they presented her with the money raised from their sale.
"SilverSneakers is just one of the many outreach programs offered by the hospital to our local community," said Tera Moorehead, Director of Community Outreach at Ridgecrest Regional Hospital. "When I received the call that the granddaughter, of one of our SilverSneakers participants, and her friend wanted to donate money back to SilverSneakers my heart just melted. Both of these young girls are very inspiring to have such big hearts and I just love that they want to give back to their community."
Guzman added, "It was a lot of fun and we plan on doing it again. We would like to do more yard sales and give money to different places in our community."
###
Notes to Editors:
About Ridgecrest Regional Hospital
Ridgecrest Regional Hospital is a nonprofit, full service, acute care hospital, accredited by DNV Healthcare. Located in Ridgecrest, California, it was founded in 1945 by Dr. Thomas A. Drummond, who realized the need for medical care, to support the then recently established Naval Ordnance Test Station. Today, RRH continues as the only regional healthcare system providing a variety of services to the rural communities of the Southern Sierra. Our Vision is to be a leader with other healthcare providers in offering the highest quality, patient-centered, affordable healthcare and wellness services to the people of our service area.
The RRH health system currently consists of 78 active medical staff members and advanced practice professionals, offering multi-specialty healthcare and state-of-the-art facilities, including Gastroenterology Lab, Cardiology, Dermatology, Orthopedics, Pediatrics, and an accredited Sleep Lab, to name a few. The hospital also offers a Cancer Center, as part of an ongoing oncology affiliation with UC Davis Health Cancer Care Network, and is one of only a number of hospitals across the country to install FDA-approved state-of-the-art automated breast screening ultrasound technology in the Women's Imaging Department, clinically proven to increase cancer detection by 35.7%. The hospital has been awarded the ACR gold seal of accreditation in Radiology and Nuclear Medicine, representing the highest level of image quality and patient safety and the Emergency Department has been designated by Kern County Public Health, as a Level IV trauma center, providing stabilization and advanced trauma life support.
Future plans include a new Emergency Room, new helipad for air ambulance services and construction is currently underway for the relocation of the South Medical Plaza. For more information, visit us at: rrh.org/ and Facebook.com/RidgecrestRegionalHospital.