RIDGECREST REGIONAL HOSPITAL EARNS ACCREDITATION FROM COLLEGE OF AMERICAN PATHOLOGISTS (CAP)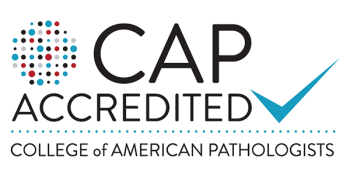 Friday, May 3 2019, RIDGECREST, Calif. – The Accreditation Committee of the College of American Pathologists (CAP) has awarded accreditation to Ridgecrest Regional Hospital (RRH) Laboratory, Ridgecrest, California, based on results of a recent on-site inspection as part of CAP's Accreditation Programs. Accreditation is valid for two-years and is maintained through continuous compliance. The Ridgecrest Regional Laboratory was first granted CAP accreditation in 2012.
During the CAP accreditation process, designed to ensure the highest standard of care for all laboratory patients, inspectors examine the laboratory's records and quality control of procedures for the preceding two years. CAP inspectors also examine laboratory staff qualifications, equipment, facilities, safety program and record, and overall management.
"We have had the opportunity to provide some of the newest in testing technologies", said RRH Laboratory Director, Chalise Thornton, CLS, MT (ASCP). "In 2017 we purchased a blood bank analyzer. Then in 2018, we purchased two new chemistry analyzers and two new hematology analyzers. All of which improve quality and efficiency."
"Processes which are implemented at Ridgecrest Regional Laboratory are essential for continuous and consistent quality in pathology and laboratory," Thornton continued. "We perform about one million tests per year, including testing in chemistry, hematology microbiology and coagulation testing. Our blood bank provided 850 units of blood and blood products last year. As laboratorians, we are dedicated to the science of laboratory medicine and to the care of patients in Ridgecrest Regional Hospital."
For more information about the Ridgecrest Regional Hospital Laboratory, visit: https://www.rrh.org/treatment-care/laboratory/