COVID-19 Update (3.23.20): Information Obtained From the Kern County Public Health Press Conference:
As of 10:00 am on March 23, 2020 the numbers reported by Kern County Public Health Department on coronavirus or COVID-19 cases are as follows:
Positives Detected in Kern County Residents: 11

Positives Detected Among Non-Residents: 1

Negative Tests: 185

Pending Tests: 292

Number of Return Traveler Notifications: 30

Return Travelers that Completed Monitoring: 20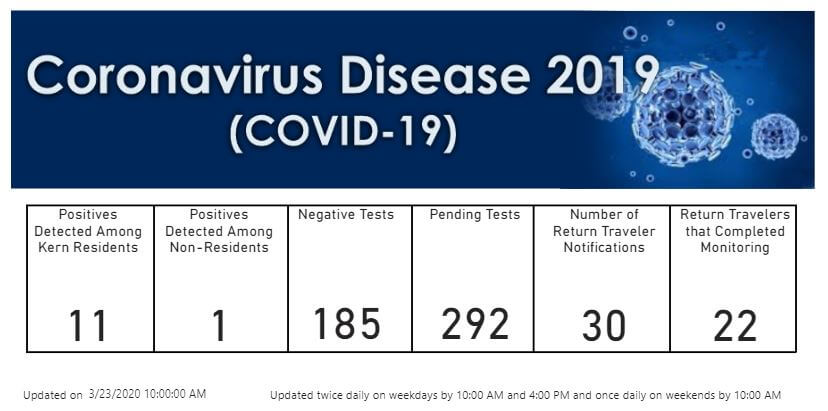 By Region:
Valley: 1

Bakersfield West: 8

Bakersfield East: 2

Mountain: 0

Desert: 0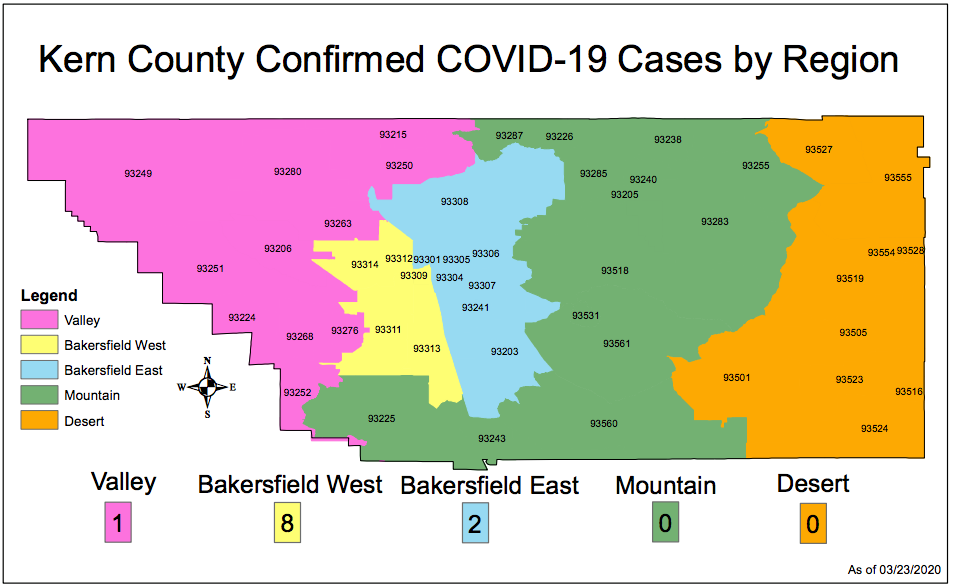 Key information reported in the press conference:
Community transmission is now occurring in Kern County.

Kern County has now reached the number of cases threshold (more than 5), under state guidelines, that allow the county to now release information on case numbers by geographic region in Kern County. (See image 2)

There is no known shortage of PPE (Personal Protective Equipment) and medical supplies in Kern County. The county has been able to fulfill all hospital requests to date.

The county received 300,000 masks donated by PG&E.

Homemade masks do not qualify as approved PPE.
Kern County Public Health advises residents to continue following Governor Newsom's executive "stay at home" order, except those working in critical infrastructure and continue practicing social distancing. People are encouraged to still go outside, talk walks and get fresh air, maintaining 6 feet distance.
For the latest information and updates visit the Kern County Public health social media pages and website for regular updates: https://kernpublichealth.com/2019-novel-coronavirus/