Press Release - Ridgecrest Regional Hospital Launches Text Appointments for Drive Thru COVID-19 Screenings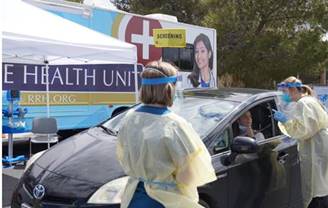 Monday, March 23, 2020, RIDGECREST, Calif. – Ridgecrest Regional Hospital (RRH) announced that is has established drive-thru testing for coronavirus (COVID-19) at the back parking lot of the main hospital campus, to help identify cases of COVID-19.
"The drive-thru process has been carefully designed to keep our patients and medical staff safe," said Michelle Whalley, Clinic Administrator for the Rural Health Clinic. "Patients remain in their cars for the entire process and are only met up close by a doctor in full protective gear to minimize any potential exposure to infection."
"Using CDC guidelines and a physician's determination we can ensure that tests are being appropriately administered to those who actually need them," said Megan Stone, DO, Medical Director of Urgent Care. "The system is also proving to provide comfort and relief to members of the community who are anxious about their symptoms, but then receive advice and reassurance from a medical professional through the screening process."
Amanda Booth, LVN, Rural Health Clinic Manager added, "the first day of our drive-through process went extremely smooth and the patients we met were so appreciative to the hospital and staff for providing this service. People thanked us, even when a test was not needed."
RRH Text Appointment and Drive-Thru Screening Process:
Patient feels they meet the criteria for COVID-19 screening (fever over 100.4 degrees or higher, cough, shortness of breath, flu like symptoms)

Patient texts the word "SCREENING" to 833-RRH-4YOU (833-774-4968).

RRH nursing triage calls the patient back and conducts screening/assessment via phone.

If the patient meets the screening criteria, an appointment is scheduled.

Patient arrives at the drive thru testing site at the hospital's back parking lot at their given appointment time

Patient is met by a physician wearing personal protective equipment (PPE) and the physician then determines if a test is needed.

If a test is required, the physician will swab the patient for COVID-19 from inside the car.

The patient will be given a bag to take away containing discharge papers, a mask and a thermometer.

If criteria is not met either via phone screening or at the appointment, the patient will still be given advice on how to manage and treat any other symptoms and may be advised to self-isolate.
The RRH texting system does not generate an immediate call back. Texts are processed by the nursing triage team and call backs are made as soon as possible. Only one text is needed, as multiple texts delay response time. If the patient is unavailable to answer the return call from nursing triage, a message will be left, if possible and the patient will need to resend their text to initiate another call back.
The text appointment screening service is currently operating 7 days a week from 8 am to 5 pm and appointments will be scheduled according to the screening results.
If you feel you meet the criteria for screening, TEXT the word "SCREENING" to 833-RRH-4YOU (833-774-4968). Information on the CDC testing criteria and a Symptom Self Check Tool can be found at: www.cdc.gov/coronavirus/2019-ncov/. For more information, latest updates and advice, visit www.rrh.org/COVID19.