Press Release: COVID-19 Advisory & Response: Dashboard Update, Additional Vaccine Doses and Boosters
Local COVID numbers still rising- Virus protection and precaution are just one aspect of community health
Thursday, August 19, 2021, RIDGECREST, Calif. – Ridgecrest Regional Hospital (RRH) has reported 49 new cases of COVID-19 in the first two weeks of August, with local upticks in transmission mirroring those reported by the Kern County Department of Public Health.
Now that our region is heading into a "third spike," RRH has relaunched its dashboard, which is updated every two weeks (see related graph).
In compliance with changing directives from the California Department of Public Health, many businesses in the community, including RRH, have re-imposed heightened precautions to reduce the spread of infection (more comprehensive information available at www.rrh.org/covid19).
The Centers for Disease Control also recently accepted a recommendation from the Advisory Committee on Immunization Practices to allow an additional dose of the Pfizer and Moderna vaccines to those who are moderately to severely immunocompromised (see statement).
"This is not a booster, but a scheduled "third dose" for those with weakened immune systems," said Michelle Whalley Rural Health Clinic Administrator. "Patients who have received organ or stem-cell transplants, with advanced or untreated HIV, being treated for cancer, or taking medication that compromises the immune system may be eligible for the dose. Anyone who believes they may be eligible for the third dose is encouraged to consult their physician."
On Wednesday morning, CDC and other agencies released a joint statement outlining a plan to begin offering boosters Sept. 20, starting 8 months after an individual's second dose, provided that FDA authorizes usage after their review of the evidence. More information on availability will be released once booster doses are fully authorized.
"We appreciate the compassion and support of our community during this period of increased risk," said RRH CEO Jim Suver. "By partnering with us to reduce the risk of transmission, you are enabling us to more efficiently leverage the limited resources of our rural health facility. We are not just here to respond to COVID, we are here to attend to all of the healthcare needs of Ridgecrest and the surrounding area. Reducing the strain of COVID-related surges means we are still available to handle all those needs."
RRH continues to publish upcoming vaccine clinics for the Moderna and Johnson and Johnson vaccines through the MyTurn system. Availability and appointments are available by visiting www.myturn.ca.gov. Other local providers and pharmacies are also offering the vaccine, including Pfizer which is the only COVID vaccine currently authorized for 12-17 year olds.

Photos attached: "RRH dashboard" "Kern County dashboard"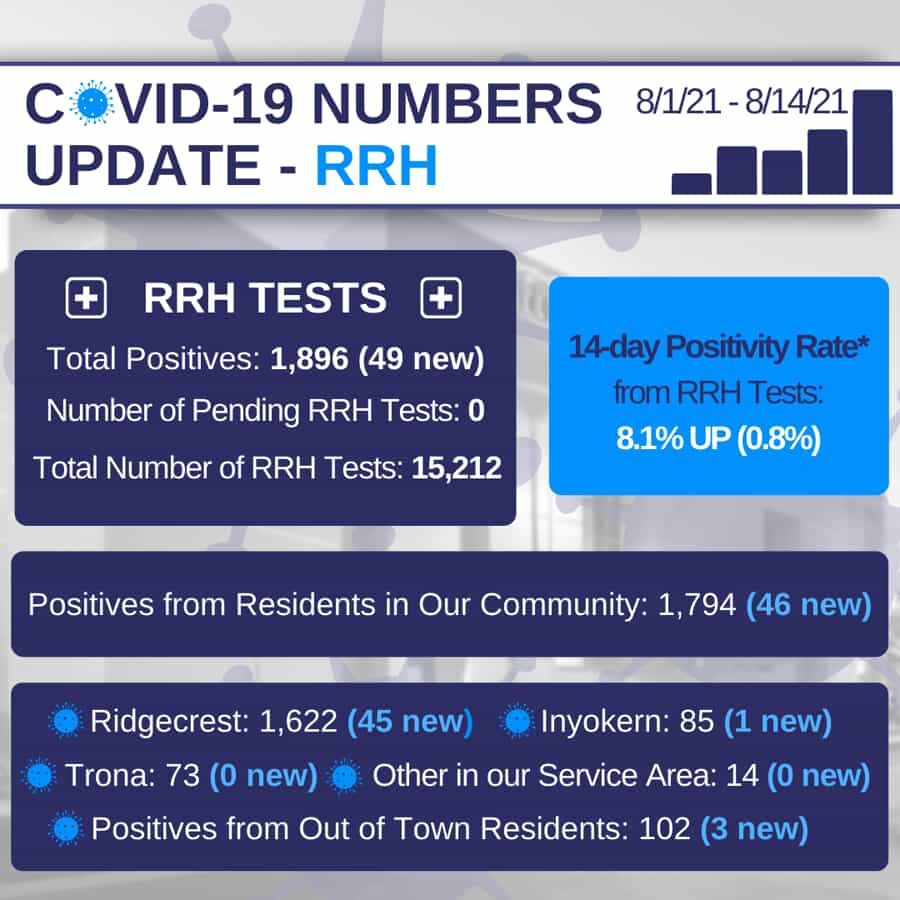 # ENDS #