Ridgecrest Regional Hospital's COVID-19 Advisory and Response (3.15.20)
Sunday, March 15, 2020, RIDGECREST, Calif. –In response to questions raised in our community regarding Ridgecrest Regional Hospital's (RRH) COVID-19 or coronavirus testing criteria and capabilities, we would like to state that RRH is aggressively performing testing on those who meet the clinical criteria, as set by the CDC.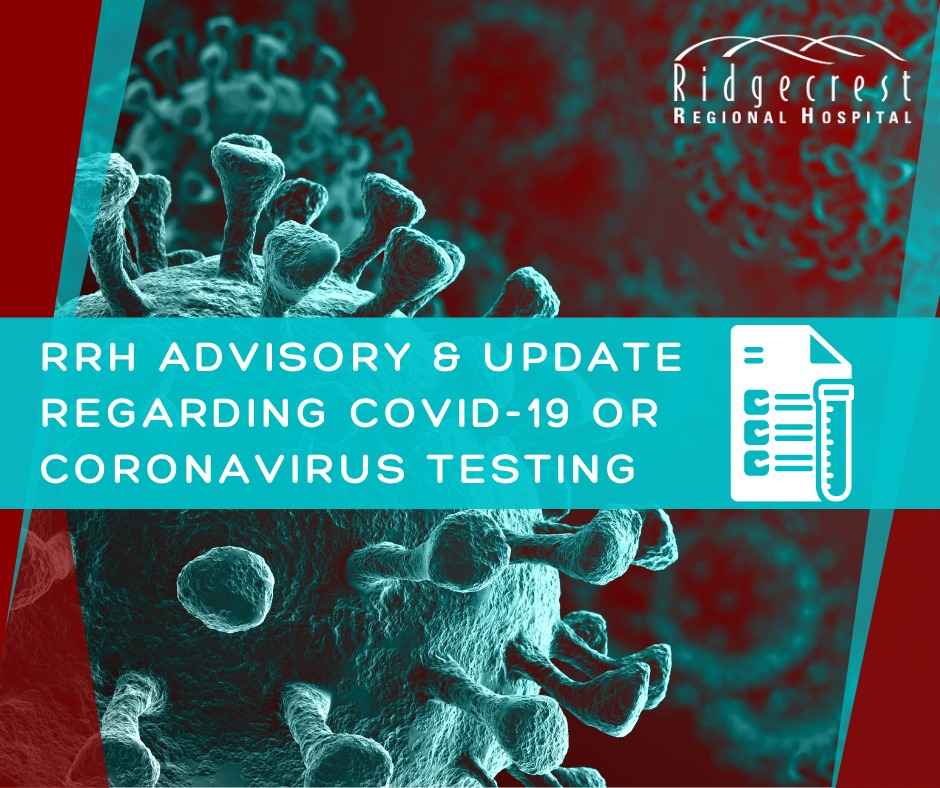 RRH does however need to ensure that it is following the guidelines issued by the CDC, which are constantly evolving. New guidelines, issued this last week, have changed to now allow the hospital to use its own choice of outside labs, resulting in faster test result turnaround times. The hospital also no longer needs Kern County's permission to run the tests. The hospital's local physicians, using CDC protocols, can now determine this for their patients.
If a patient is concerned about their symptoms or has questions regarding a physician's decision to order a test, the best advice is to contact their provider directly to discuss.
An important point to remember is that testing also requires processing. The criteria put in place protects our Lab from being overwhelmed with running tests on people who do not necessarily match the identified criteria, and could potentially cause delays or shortages for those who do have the symptoms and could be positive.
RRH complies with directives from Kern County Public Health regarding the dissemination of information on patients tested, admitted or transferred and in isolation etc. The County Public Health Department releases that information at their discretion.
There are still no confirmed cases in Kern County, but we would like to remind people to continue practicing the official advice from the CDC:
Wash your hands often with soap and water for at least 20 seconds, especially after blowing your nose, coughing, or sneezing, or having been in a public place.

Avoiding touching eyes, nose or mouth with unwashed hands.

Avoid close contact with people who are sick, and stay away from large gatherings and crowds.

If you are at a higher risk, stay home as much as possible. Consider ways of getting food brought to your house through family, social, or commercial networks.
Information and updates continue to be provided at rrh.org/covid19 and across the hospital's social media pages.