Urology
World-Class Treatment Meets Small Town Care

We have teamed up with USC Urology, a part of Keck Medicine of USC, one of the nation's leading urology programs to bring you comprehensive urologic treatment, conveniently close to home.
This collaboration with Keck Medicine of USC will provide RRH patients with access to a world renowned program, ranked No. 4 in the nation for urology by U.S. News and World Report. With the support and coordination of Keck Medicine of USC, RRH Urology will be able to offer patient evaluation and treatment, as well as some surgical procedures. For surgeries that are unable to be performed safely on site, patients will have full access to the surgical services at USC facilities.
Urology is a surgical specialty which deals with diseases of the male and female urinary tract and the male reproductive organs. RRH Urology services and specialties will include treatment for: Bladder Cancer, Endourology, Kidney Cancer, Male Infertility, Men's Health, Prostate Cancer, Pelvic Medicine and Reconstructive Surgery, Testis Cancer and Urology Preventive Medicine.
Urologic services includes treatment for:
Bladder Cancer
Endourology
Kidney Cancer
Men's Health
Prostate Cancer
Pelvic Medicine and Reconstructive Surgery
Testis Cancer
Urology Preventive Medicine
Listen to a podcast with Urology specialist Dr. Jeffrey Loh-Doyle:
Keck Medicine of USC is one of only two university-based medical systems in the Los Angeles area. Its internationally renowned physicians and scientists provide world-class patient care at Keck Hospital of USC, USC Norris Cancer Hospital, USC Verdugo Hills Hospital and more than 80 outpatient clinics in Los Angeles, Orange, Kern, Tulare and Ventura counties.
Keck Medical Center was ranked No. 16 on U.S. News & World Report's 2019-20 Best Hospital Honor Roll and among the top 3 hospitals in Los Angeles and top 5 in California. The hospital also ranked in the top 4 in Urology (tie); top 10 in geriatrics; top 15 in ophthalmology, cardiology & heart surgery, gastroenterology & GI surgery and nephrology; top 20 in neurology & neurosurgery; top 25 in cancer; and top 35 in pulmonology & lung surgery.
For more information, visit KeckMedicine.org.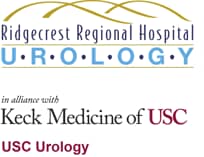 ​
Contact Info & Hours of Operation:
Urology Clinic
Address: East Medical Plaza, 2nd Floor, 105 E. Sydnor Ave.,
Ridgecrest, CA 93555
Phone: (760) 463-8930
Hours: Mon to Fri: 9:00 am to 4:00 pm