Veteran Services in Ridgecrest
Welcome to RURAL VETERANS Community Care Health Services
VA provides care to Veterans through community providers when VA cannot provide the care needed. Community care is based on specific eligibility requirements, availability of VA care, and the needs and circumstances of individual Veterans.
Since June 2019- RRH is credentialed with TriWest California's Community Care Network (CCN).
How do Veterans benefit from health care at RRH?
Veteran Eligibility
Veterans must be enrolled in the VA Health Care System.
Eligibility is determined by the veteran's local VA Medical Center (determined by veteran's zip code). Veterans who live in the Ridgecrest area must establish care by visiting one of the VA approved medical centers such as Loma Linda in Palmdale or in Los Angeles.
Once established, veterans can benefit from healthcare services at RRH.
Every 12 months veterans must have a primary care visit with a physician at a VA Medical Center to initiate a request for a referral to RRH.
Referrals
VA Medical Center primary care providers initiate referrals.
VA approves and transmits referrals to TriWest for processing, scheduling, and veteran notification.
Referrals may be for an episode of care that include a series of visits.
Veterans or providers may request TriWest initiate a Request for Service (RFS) -secondary SAR-continuation of care for additional episode of care request if request is within 12 months of last VA primary care visit.
VA and TriWest each are allowed 14 days to process a referral (28 days total).
Types of Care
Covered
Primary Care
Urgent Care
Emergency Care
Inpatient Specialty Care
Outpatient Specialty Care
Behavioral Health Care
Limited Newborn Care for Enrolled Female Veterans Following Delivery
Not Covered
Dental Care
Nursing Home Care
Long-Term Acute Care Hospitals (LTAC)
Homemaker and Home Health Aid Services
Chronic Dialysis Treatments
Compensation and Pension Examinations
Learn about the types of care: Veterans Overview
Prescriptions
Routine prescriptions are mailed to veterans by VA pharmacies. When there is a need to start taking a medication immediately, a 14-day prescription is written for veterans to have filled and pay out of pocket for at a local pharmacy and a request can be submitted to the VA for reimbursement.
What is Community Care?
Learn more here.
Understanding the VA Community Care Process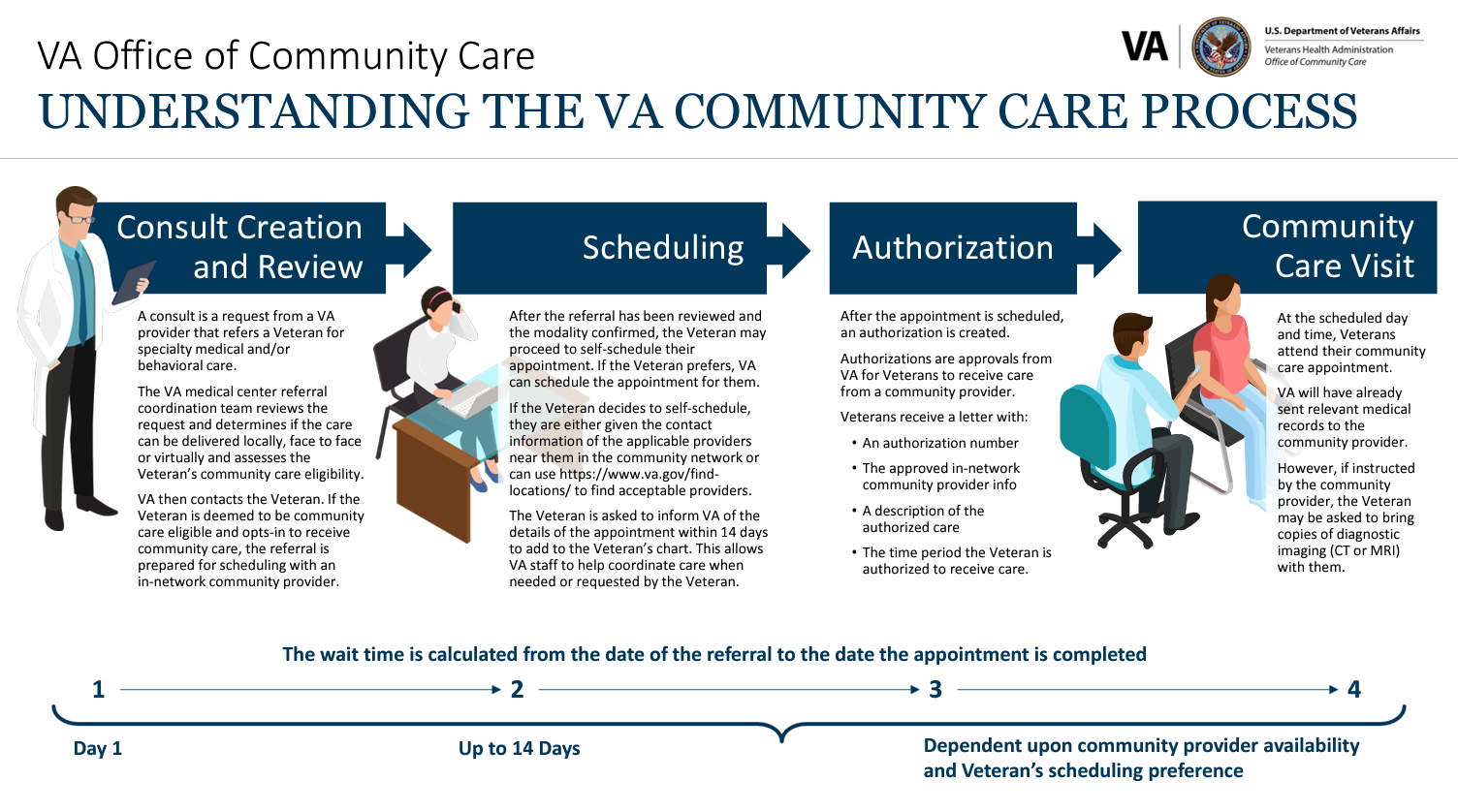 Important Contacts
TriWest Provider Services 855-722-2838, Ext 3
RRH's NPI #1447253125 and TaxID #95-2082686
Non-VA Community Care Coordinators at each VA process referrals and facilitate roadblocks.
For more information, please call 800-698-2411.