Ambulance Services
Liberty Ambulance Provides Emergency Care You Can Count On
When you need urgent medical care, Liberty Ambulance is there to serve residents of the High Desert with exceptional emergency medical services, even at the most critical times.
Symptoms of a medical emergency for which you should call 9-1-1 for immediate transportation to the hospital include, but are not limited to:
Chest Pain or Pressure
Uncontrolled Bleeding
Sudden or Severe Pain
Coughing or Vomiting Blood
Large Open Wounds
Changes in Mental Status
Sudden Change in Vision
Difficulty in Breathing
Major Burns
Sudden Dizziness / Weakness
Severe Injuries
Loss of Consciousness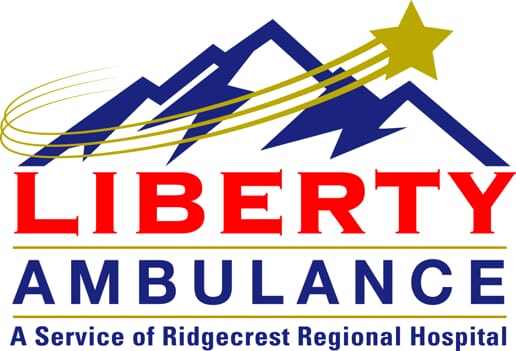 It's important to call 9-1-1 in any medical emergency for immediate transportation to your nearest emergency room. Do not drive yourself or someone else to the hospital in the event of a life-threatening emergency (for non-emergency situations, call 760-375-6565.
About Liberty Ambulance
Here's what you can expect from Liberty Ambulance, the EMS provider for Ridgecrest Regional Hospital:
Hours of operation: 24 hours a day, 7 days a week
Service area: Ridgecrest, Trona, Lake Isabella, and Cal City area
A highly trained team: Highly skilled paramedics and Emergency Medical Technicians (EMTs) will guide your treatment on the way to our hospital
Ambulance types: Advanced Life Support (ALS) and Basic Life Support (BLS)
Effective Disinfection: The new fleet of ambulances are equipped with UV lights for complete disinfection
And much more
Learn More About Our Emergency Department & Level IV Trauma Center
Our Emergency Department is staffed 24/7 with extensively trained and experienced emergency medicine physicians and registered nurses for medical and surgical emergencies. We also have a Level IV trauma center that provides care for dire, life-threatening medical emergencies.