The role of quality management at Ridgecrest Regional Hospital is to support the healthcare team as they continue to strive to improve their processes of healthcare delivery. Our quality team monitors and evaluates trends within the hospital and focuses on the needs of our patients, and improving our patients' experiences. Our team also reviews current systems and processes in order to stay compliant with established standards and guiding principles.
Our quality management department is headed by registered nurse Brenda Diel, MS, RN, and includes representatives from Safety, Compliance, Risk Management, Patient Advocacy, and Infection Prevention.
Medicare & Medicaid Compliant
The Centers for Medicare & Medicaid Services (CMS) implemented quality initiatives such as quality measures, to assure quality health care for Medicare Beneficiaries through accountability and public disclosure. Quality measures are tools that help us measure or quantify healthcare processes, outcomes, patient perceptions, and organizational systems that are associated with the ability to provide high-quality health care and that relate to one or more quality goals for health care.
These goals include creating care that is:
Effective
Safe
Efficient
Patient-centered
Equitable
Timely
RRH is focusing on the Emergency Department Transfer Communication Measure and Patient Satisfaction.
Emergency Department Transfer Communication Measure
This measure for hospitals to evaluate communication for transitions of care during emergency department (ED) transfers is particularly relevant for critical access hospitals (CAHs) and is included in the Medicare Beneficiary Quality Improvement Project (MBQIP).
MBQIP is a program of the Health Resources and Services Administration (HRSA) funded Federal Office of Rural Health Policy's (FORHP) Medicare Rural Hospital Flexibility (Flex) Program.
While emergency care is important in all hospitals, the emergency department is particularly important in rural hospitals where the distance to urban tertiary care centers makes the effective triage, stabilization, and transfer of patients with the necessary and appropriate information of life or death importance.
The emergency department transfer communication (EDTC) measure allows the acute care safety net facilities to show how well they carry out their important stabilize-and-transfer role for rural residents.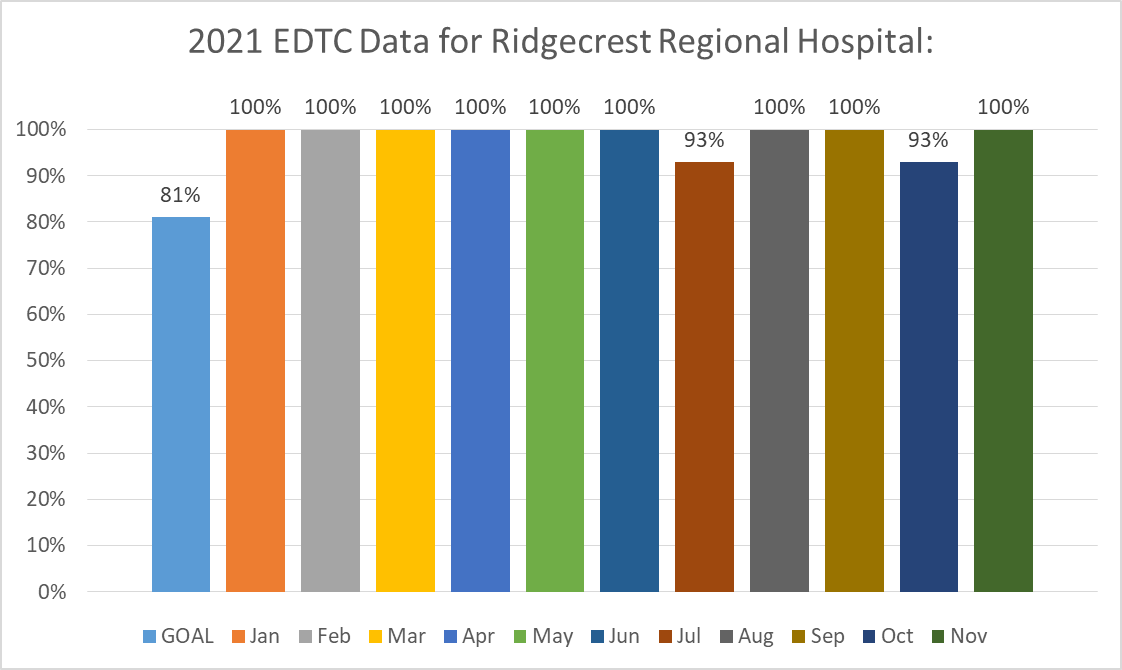 Ridgecrest Regional Patient Satisfaction

RRH transitioned Patient Satisfaction vendors in September 2021 to Qualtrics which is an electronic survey platform.
Surveys will be distributed to your email on file the morning after your visit.
We value your feedback and want to recognize our staff who provided excellent care and identify areas for improvement.
Please take 5 minutes and let us know about your most recent visit.
Ridgecrest Regional Pat Sat Scores 2021: