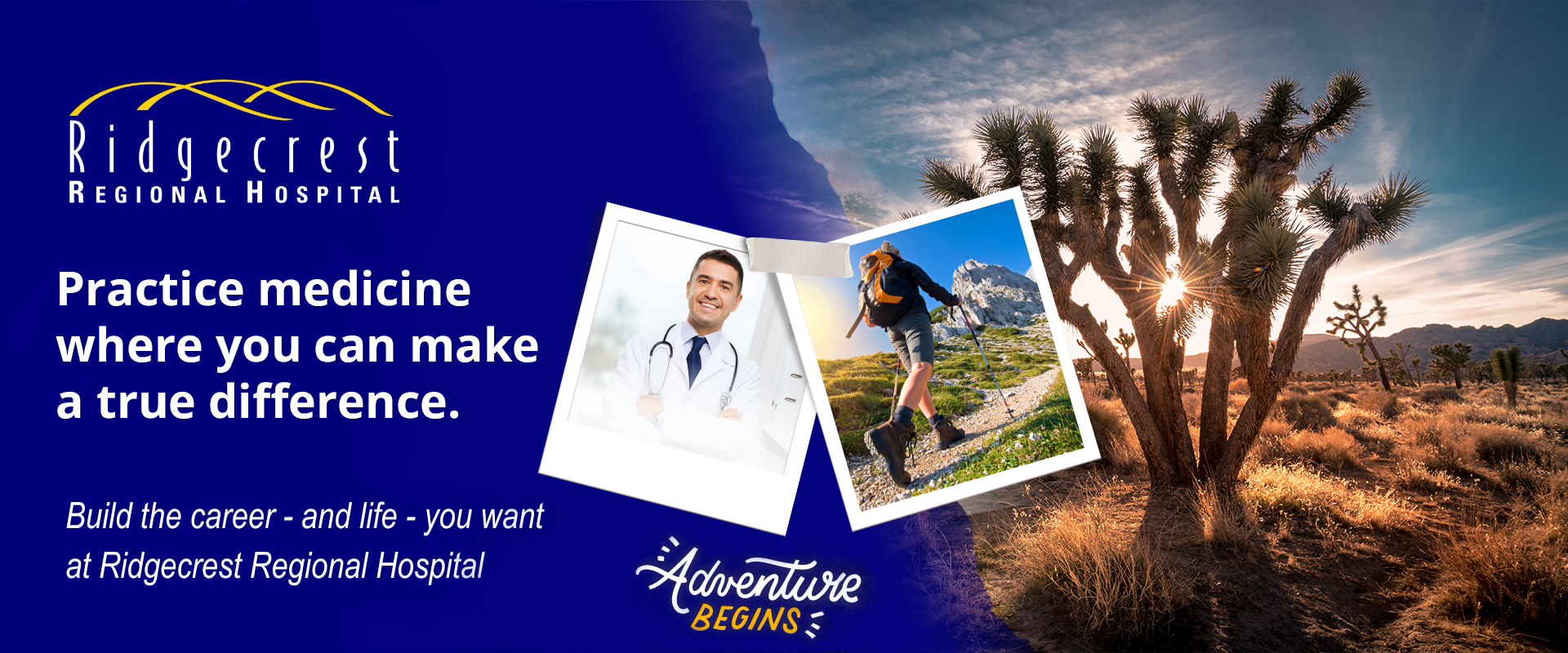 Come work where doctors are celebrated
We're dedicated to helping our doctors
deliver world-class primary and specialty care to our patients—and derive the most growth and satisfaction from their practices.

Our welcoming hospital and vibrant community
motivate many doctors to make the city of Ridgecrest their home.

All have something to offer.
We open our arms to all individuals regardless of race, sex, sexual orientation, gender identity, religion, national origin, or disability.
What it's like to work at RRH?
The Ridgecrest Advantage
Ridgecrest Regional Hospital, a place where doctors find rewarding careers.
Flexibility & healthy work pace
A reasonable daily patient load enables you to deliver more quality care
Our system has an established physician well-being program
Get more out of life with the option of a 4-day workweek
Generous Benefits
Our remuneration packages include competitive compensation, and may include relocation assistance, signing bonus, student loan forgiveness and potentially a productivity bonus, as permissible under applicable laws
We make relocation easy: housing may be provided
Benefit Stipend
Download: RRH Benefits Summary
"Relocating to Ridgecrest was easy. The hospital provided me housing options the first two months I was there."
Career Growth Opportunities
Limitless opportunities to create the career you want.
Working at RRH permits the advancement of a career while growing as a leader and as a healer.
You'll have richer opportunities at Ridgecrest, participating in the full spectrum of healthcare and pursuing your special interests. As one of our doctors said, "I asked to run a specialty clinic, and the hospital supported me from the beginning."
Direct access and communication with the hospital CEO and leadership
Doctors are encouraged to take CMEs, and are empowered to integrate new skills, abilities, and certifications into their practices
"Ridgecrest was receptive to my philosophy and approach to healthcare. They're truly giving me the support I need to further my own career and improve health outcomes in the community."
Facilities & Amenities
A better place to work
Compact and easy-to-navigate hospital campus
SCRIBE service that helps doctors spend less time managing Electronic Medical Records
Cafeteria offering healthy and delicious food choices at affordable prices
Quick and stress-free daily commute from anywhere in Ridgecrest
A Focus on Your Health
At Ridgecrest Regional Hospital, we don't view work-life balance as a "perk." It's something our physicians need to be happy, healthy, and take better care of patients. To help our staff stay healthy in both mind and body, we've developed a wellness program that includes gym memberships reimbursement, complimentary massages, exercise and diet education, health store discounts and more.
Start a new chapter in your healthcare journey in Ridgecrest
Ready to learn more about what being a doctor at Ridgecrest Regional Hospital can do for your career, and your life?
Let's talk...
Living in Ridgecrest Doctor Recruitment FAQS Our Purpose & History