Employee of the Quarter
1st Quarter 2022
Linsey Abplanalp, Senior Accountant in our Finance department has been selected as the Employee of the Quarter- 1st Quarter 2022.

Linsey has been with RRH for almost two years, and is a highly valued member of the Finance team. In her nomination form, she was commended for assisting her fellow coworkers, being courteous and helpful to all hospital personnel she works with, and always having a positive attitude. Human Resources congratulates Lindsey on her well-deserved recognition. Congratulations!
4th Quarter 2021
CONGRATULATIONS to our EMPLOYEE OF THE QUARTER WINNER (4th Quarter 2021)... Mariana Goins, Cardiology Respiratory Therapist at RRH!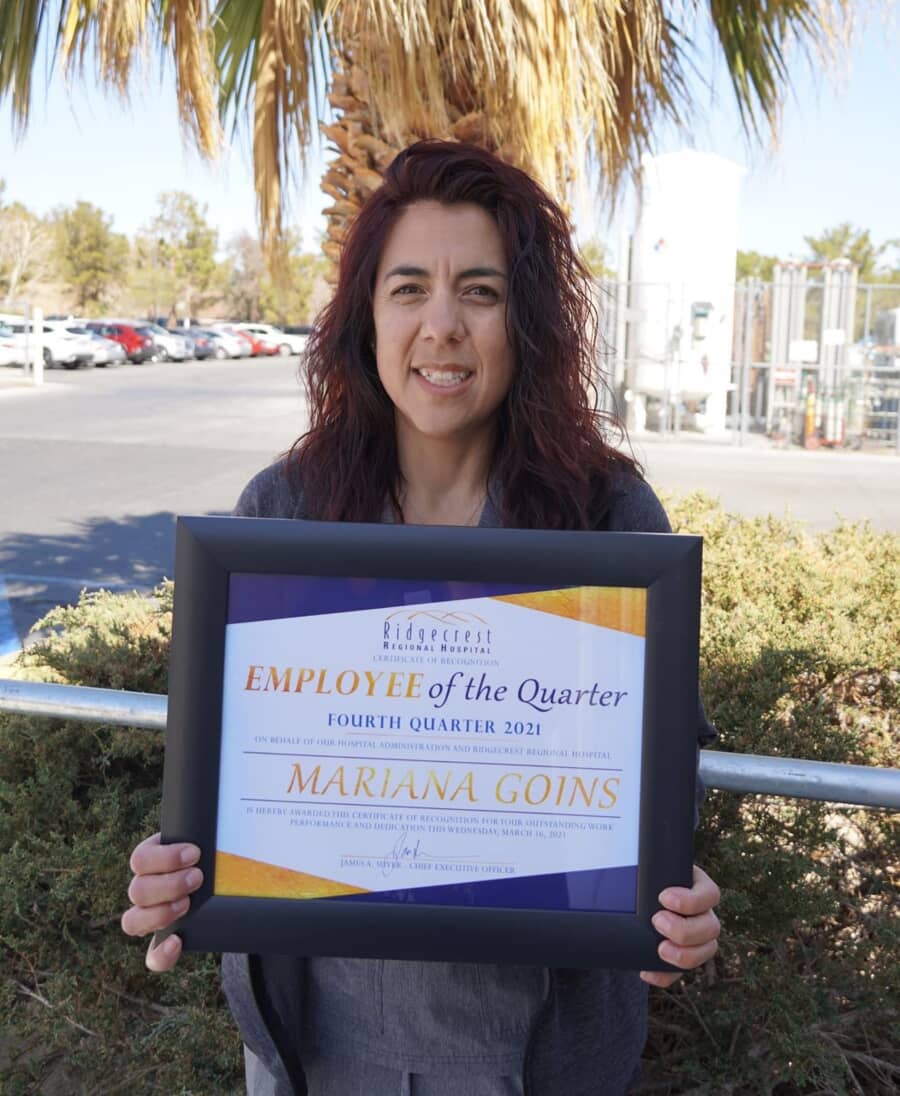 During the past year, Mariana has covered more the 45 additional shifts in the Respiratory department, helping with our short staffing. Mariana has been performing the stress portion of the stress echocardiograms in Cardiology. She has written and edited many of the policies and forms in Cardiology. She has volunteered and became respiratory's intubation instructor. She has quickly become a trusted resource and acts as the cardiopulmonary manger when needed. She is an amazing and versatile employee. Thank you for being a team leader, you're awesome!​
3rd Quarter 2021
CONGRATULATIONS to our EMPLOYEE OF THE QUARTER WINNER (3rd Quarter 2021)... Thomas Morehead, Network PBX Technician, Information Systems Department at RRH!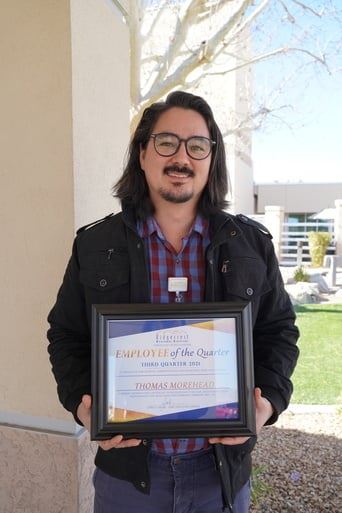 Tommy works tirelessly to keep all of RRH's phones, faxes and overhead speakers in proper working order. He works nonstop to get any issues resolved quickly and efficiently. Many times working with outside carriers to ensure minimal downtime in our facilities. He always exhibits a positive attitude and remains calm during high pressure situations. He is an excellent team player, and his IT department appreciates how hard he works to provide the best support he can.
2nd Quarter 2021
CONGRATULATIONS to our EMPLOYEE OF THE QUARTER WINNER (2nd Quarter 2021)... Audri Arndt - Registered Nurse III at RRH!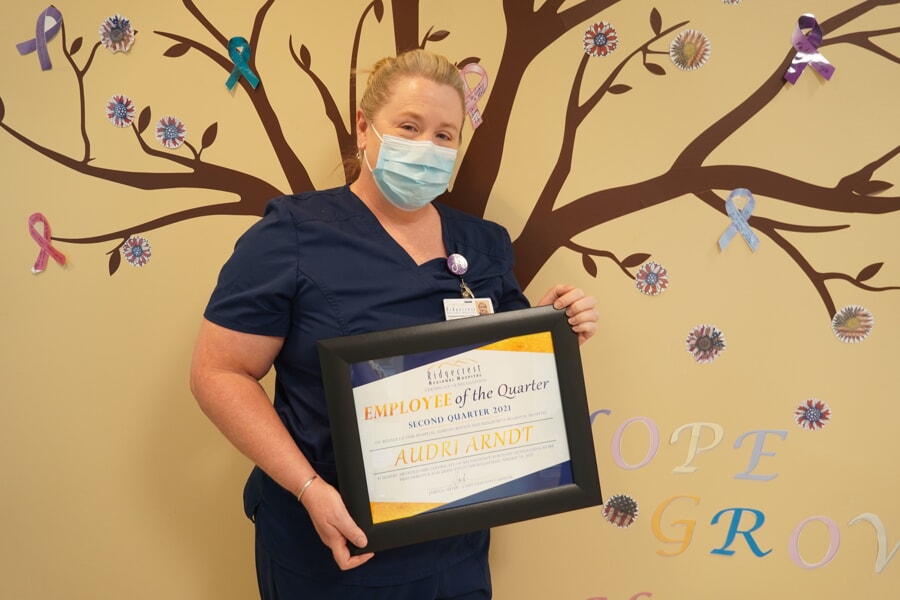 With over 10 years of service in the nursing field, Audri is known for being hardworking, resourceful, and most importantly professional in every aspect. She was recognized by her peers for her helpful demeanor, her ability to share her knowledge with new staff, as well as her commitment to her colleagues when staffing is low. In spite of having a busy workload, Audri is always polite and compassionate with both patients and staff. Her work ethic and dedication to Ridgecrest Regional Hospital and the community are without a doubt admirable. She is most definitely and asset to our organization.
Ridgecrest Regional Hospital has an incredible team that is compassionate, caring, and talented. We recognize our people as one of our greatest strengths. We are proud to have dedicated staff and physicians, whose commitment and efforts have led us to expand our services to the community.
Every quarter we recognize the achievements and hard work of a select few from our team and thank them for all that they do.
1st Quarter 2021
CONGRATULATIONS to our EMPLOYEE OF THE QUARTER WINNER (1st Quarter 2021)... Courtney Roland, Surgery Scheduler at RRH!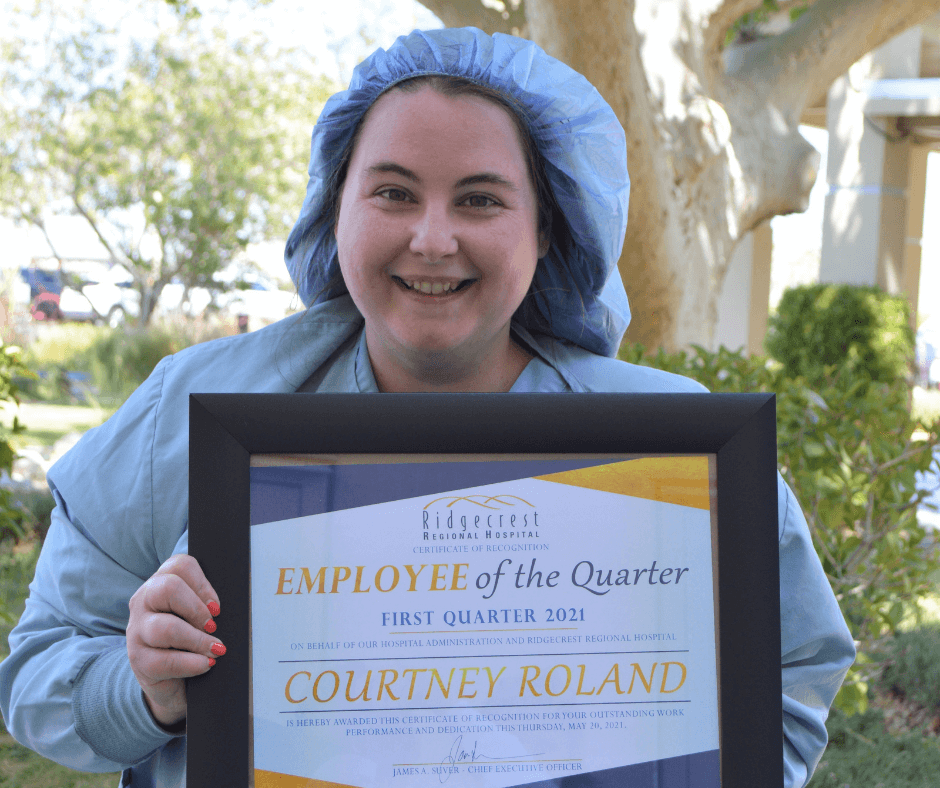 As the Surgery Scheduler, Courtney is known for consistently going above and beyond her role, as well as her positive attitude which makes everyone who she interacts with feel welcomed. She willingly volunteers to take on additional tasks and her keen attention to detail has helped scheduling cases run smoothly. She was nominated by staff both in the Surgery and Sterile Processing Department who agreed her dedication and readiness to help others whenever possible makes her a pleasure to work with. Without a doubt Courtney is a true team player and invaluable employee to RRH.
3rd Quarter 2020
CONGRATULATIONS to our EMPLOYEE OF THE QUARTER WINNER (3rd Quarter 2020)... Darrell Lyons, Floor Care Technician at RRH!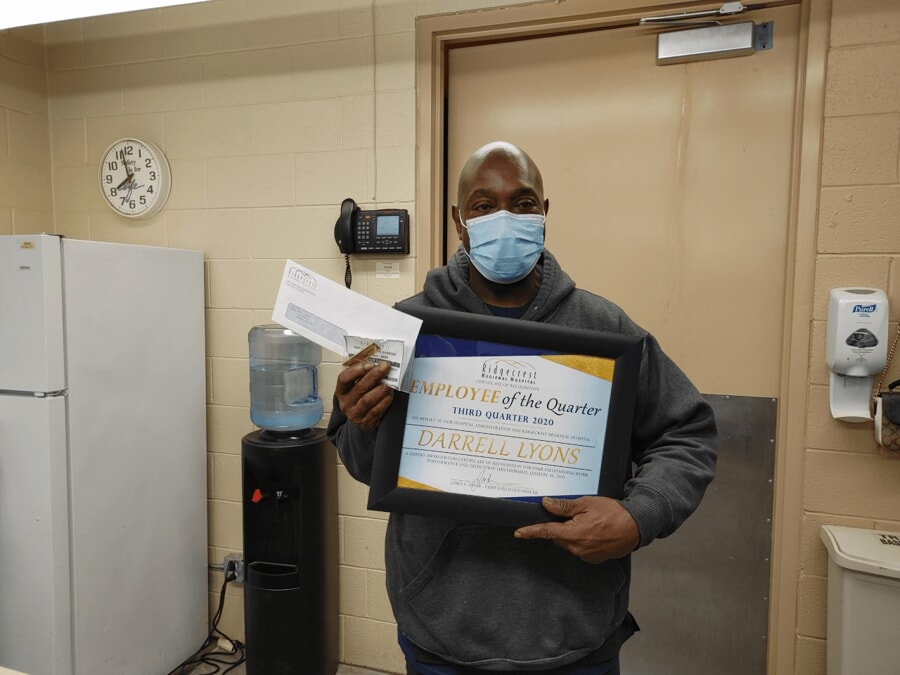 Darrell was nominated in large part by our nursing staff, who all commended his work ethic and kind disposition. Due to the current pandemic, the workload for our EVS staff has increased significantly, and this fact has not been lost on our staff, who thank Darrell for all of the extra work he has demonstrated. Despite these challenges and busy workload, this does not stop him from always being kind and helpful to all around, something which is mentioned by almost every employee who submitted a nomination form. For his commitment to providing excellent service and representing the often overlooked members of our hospital staff, Darrell is a shining example of a RRH Employee of the Quarter. Congratulations Darrell!
2nd Quarter 2020
CONGRATULATIONS to our EMPLOYEE OF THE QUARTER WINNER (2nd Quarter 2020)... Brittany Swindon, Kitchen Supervisor at RRH!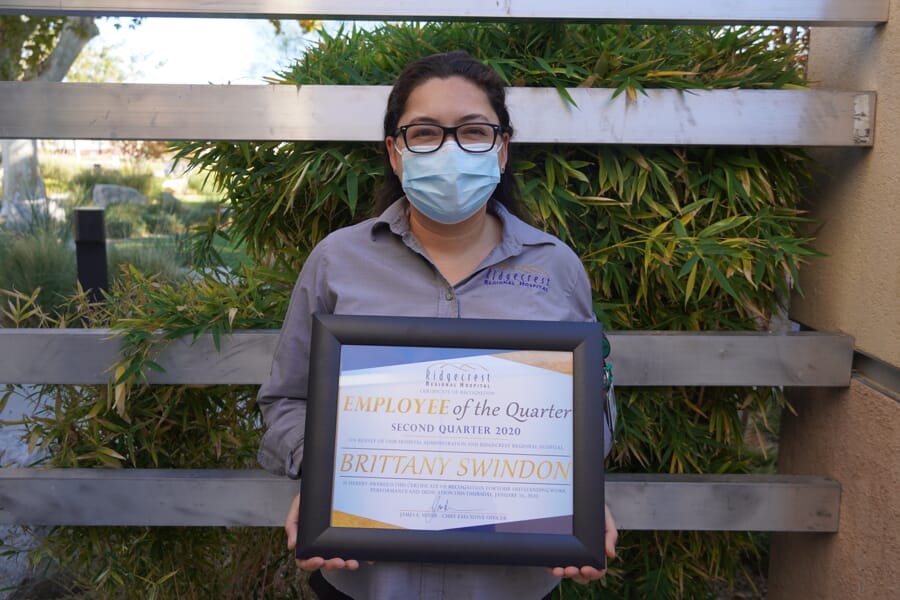 Brittany has worked for the hospital for nearly 8 years, and in that time she has made her mark on the department in numerous ways. She takes pride in her work and strives for excellence in all she does. She takes the initiative on projects and other items that she sees needs to be completed, and has volunteered to do a number of different tasks in the kitchen. Brittany brings creative solutions to problems that arise and has proven an effective task master for all types of events that the kitchen helps to cater. Because of her efforts and leadership skills in the kitchen, Brittany has proven to be an exemplary employee and worthy of this award. Congrats Brittany!
1st Quarter 2020
CONGRATULATIONS to our EMPLOYEE OF THE QUARTER WINNER (1st Quarter 2020)... Melody Meadows, Pharmacy Technician II at RRH!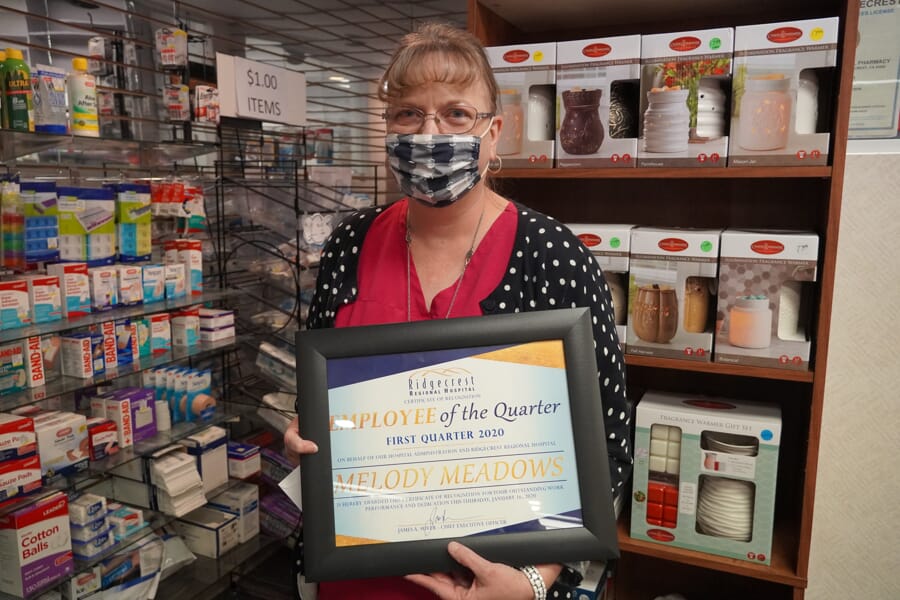 Melody consistently applies her technical experience to make positive contributions to patient's health and goes the extra mile to ensure the integrity and availability of our Bella Sera and TCRU patient's medications. She is commended by her manager for her resourcefulness and for being knowledgeable in all aspects of the retail pharmacy's operations. Other departments also recognize Melody for her expertise, and frequently request her advice for various different pharmacy related issues. By displaying such excellence and service, Melody embodies the best values of Ridgecrest Regional Hospital and is a deserving recipient of this award. Thank you Melody!
4th Quarter 2019
CONGRATULATIONS to our EMPLOYEE OF THE QUARTER WINNER (4th Quarter 2019)... Christy Johnson, LVN Resource Lead at RRH!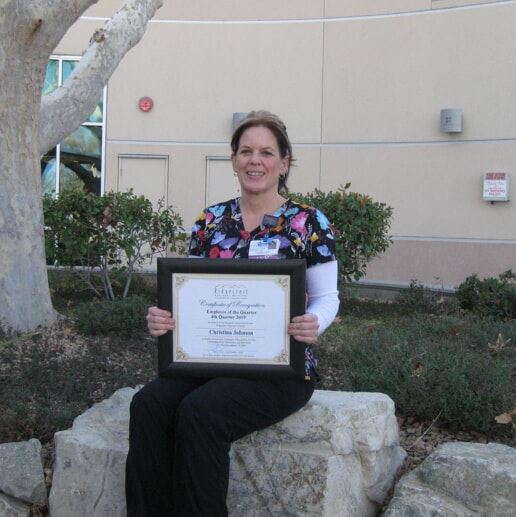 Christy has been recognized by her department for her extraordinary efforts and leadership in the Surgery Clinic. She was praised by coworkers and providers for her dedication and passion in delivering excellent service to patients and ensuring the best systems are implemented to improve the department's workflow. She is a valued resource not only within her own department, but among the entire Southern Sierra team as well. Christy embodies our hospital's core mission and values with her work, and is a well-deserved recipient of this quarter's award!
3rd Quarter 2019
CONGRATULATIONS to our EMPLOYEE OF THE QUARTER WINNER (3rd Quarter 2019)... Stephanie Meeks, Emergency Management & Regulatory Compliance Manager at RRH!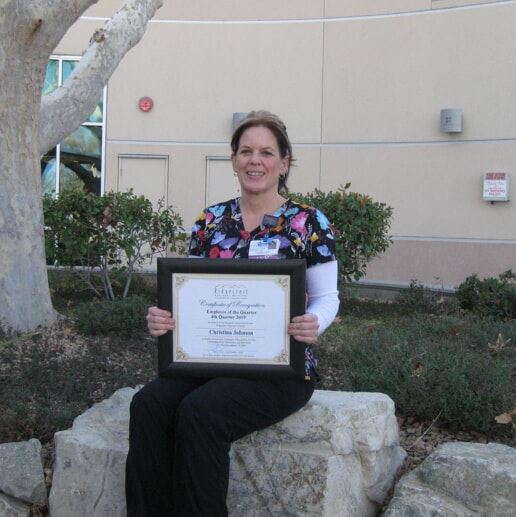 Stephanie has been a great resource to both employees and managers, as her wealth of knowledge regarding safety and compliance is unparalleled. She was additionally a tremendous help during AND after the earthquakes on July 4 & 5. Stephanie was an invaluable guide and leader, helping to get everything organized amidst all the chaos. She is not only deeply appreciated by her team in the Quality department, but also by all RRH employees and our local community.
2nd Quarter 2019
Kathrin "Katie" McDonald, Assistant Manager of Patient Access/PBX at Ridgecrest Regional Hospital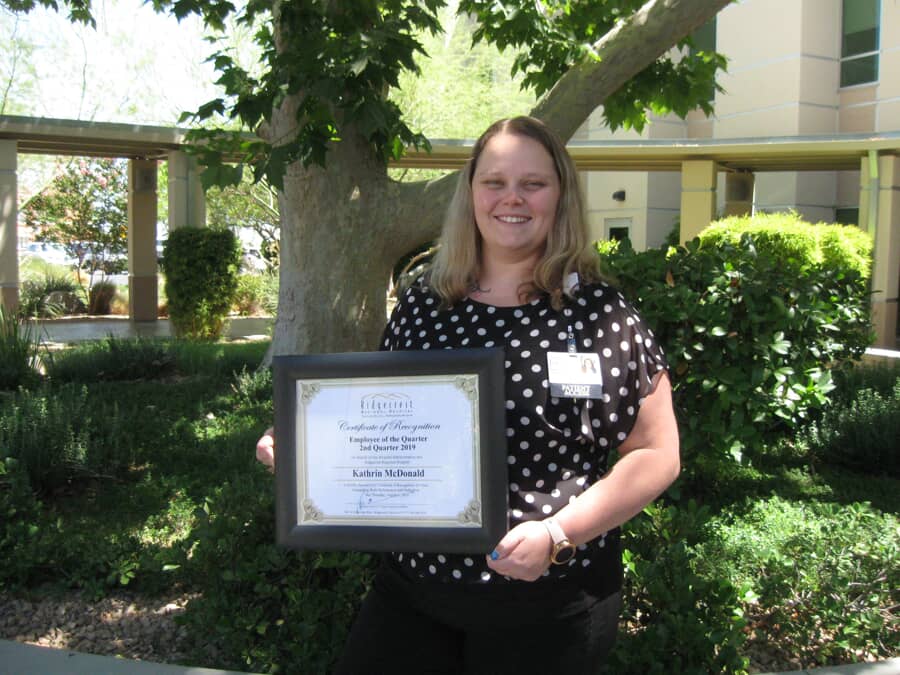 Praised by coworkers and supervisors alike, Katie excels at fostering a positive attitude in her work environment. Despite being relatively new to her position, Katie has been hard at work ensuring Patient Access runs smoothly even with all of her new duties and responsibilities. Her coworkers mention their great working relationship with her, and how she is a great resource to others. Truly, Katie exemplifies RRH's mission and values!
1st Quarter 2019
Mary "Ginny" Rusher, Cashier/Receptionist at Ridgecrest Regional Hospital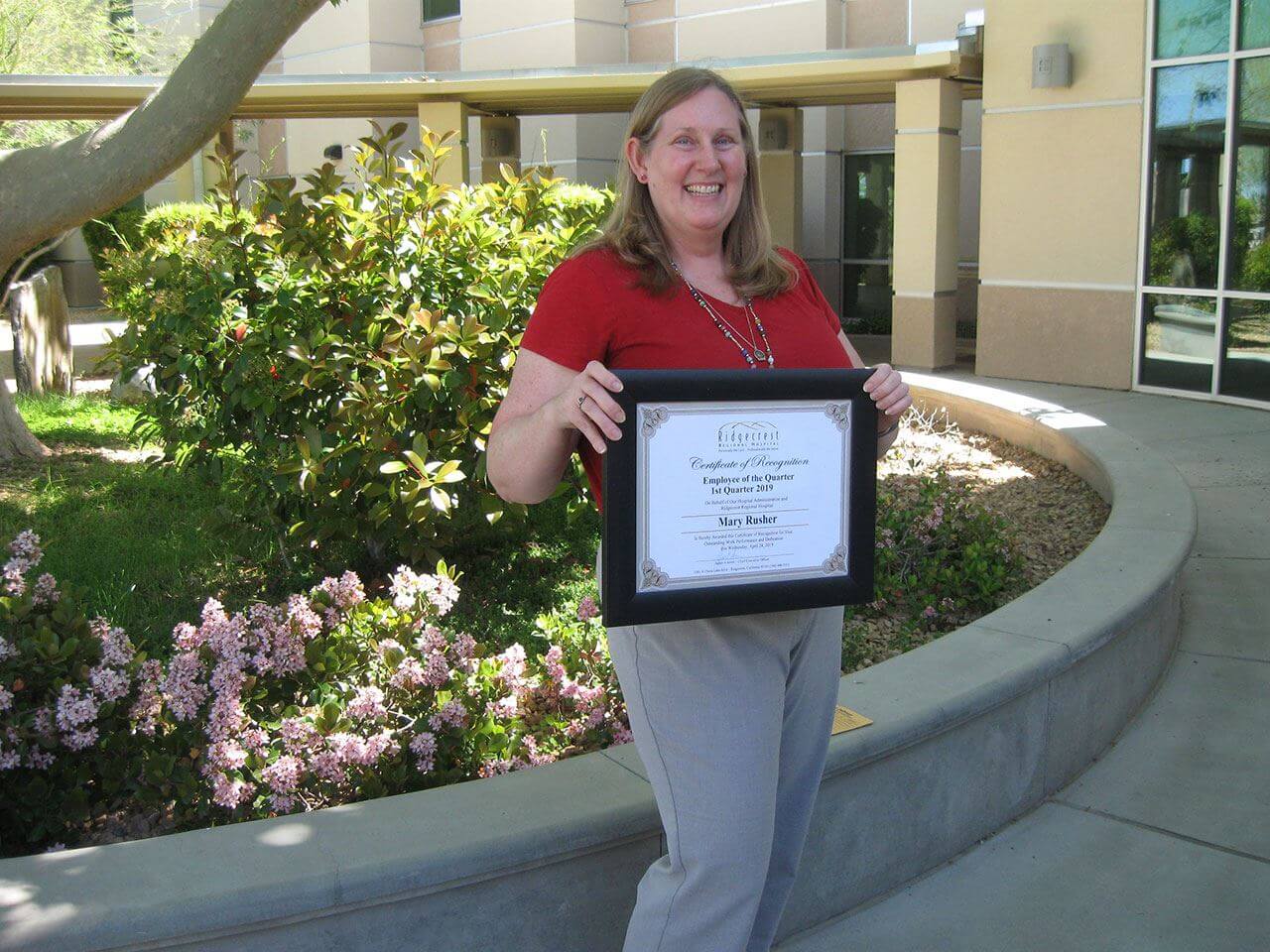 The staff who work with Ginny all had one thing to say to upon hearing of her nomination, "Well deserved!" Ginny is praised by her co-workers for her excellent disposition, and courtesy with all patients and staff. She is recognized for her hard work, and for making those around her feel they can rely on her to get the job done.
4th Quarter 2018
Glenice Harden, Front Office Staff at Desert Oasis Medical Clinic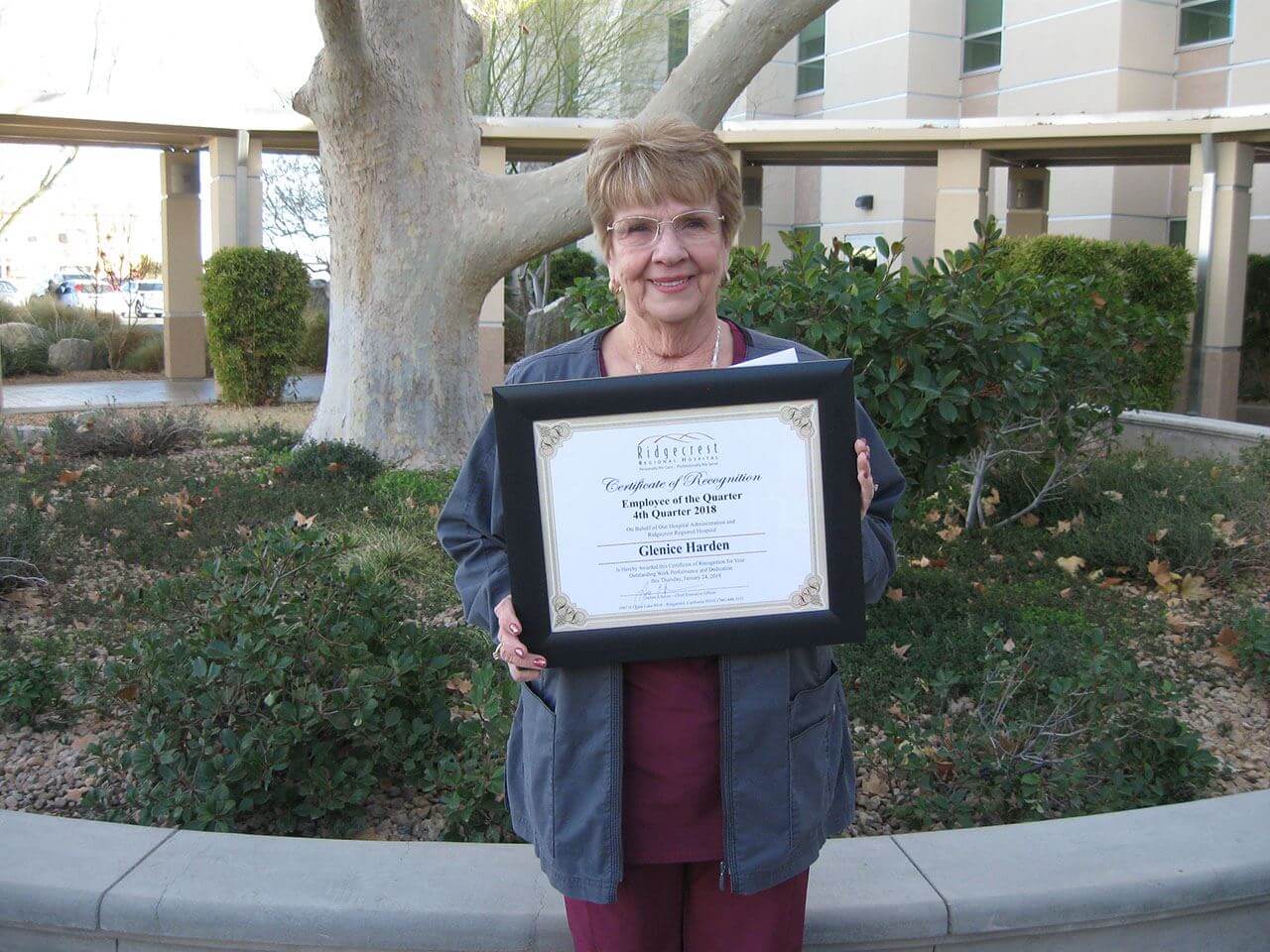 The comments that were submitted by Glenice's co-workers shared many of the same descriptions. Glenice was described as helpful, positive, and a joy to work with. This alone would make Glenice worthy of being nominated for this award, but the compliments don't stop there. She is described as being compassionate and hard-working, qualities that are recognized by both staff and patients. In fact, her services are often requested by patients specifically, due in no small part to her knowledge and willingness to help. Truly, Glenice is an asset to the RRH team, and embodies the hospital's core mission and values through her work ethic and dedication.
3rd Quarter 2018
Kristen McKnight, Non-Certified MA at Ridgecrest Regional Hospital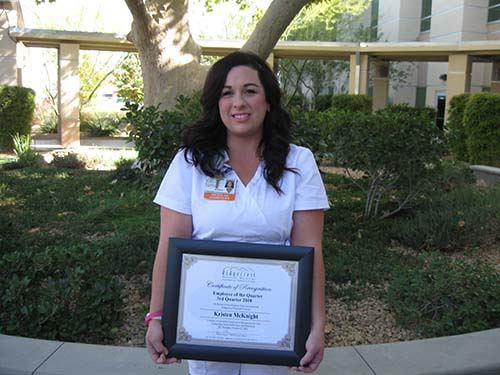 Kristen's personal commitment to quality and attention to detail is obvious in everything she does. She has been a tremendous asset to the Podiatry clinic in Rural Health, being recognized by both her co-workers and supervisors for her contributions. Kristen has been observed going out of her way to make sure patients receive quality care, and her work has not gone unnoticed. She embodies our hospital's core mission and values to provide quality healthcare for the people in our region.
2nd Quarter 2018
Sonia Lopez, LVN I at Ridgecrest Regional Hospital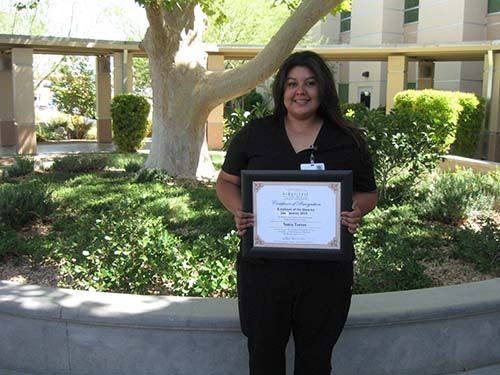 Sonia has received many praises for her work in patient care. She has been described as going above and beyond to ensure patient's comfort while they stay at the hospital. Patients have recognized her compassion as a nurse, and are very grateful for her services. Sonia is an asset to the Med-Surg team, and sets forth a wonderful example of RRH's mission and values.
1st Quarter 2018
Armando Contreras, Administrative Assistant at Ridgecrest Regional Hospital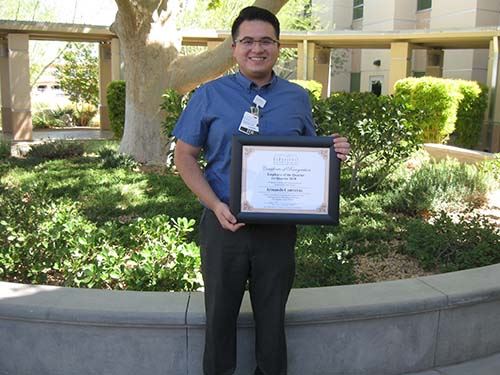 Armando is described as a very positive person to work with, and never too busy to help someone in need. He embodies the mission and values of RRH through his service and attitude.