Press Release: Ridgecrest Regional Hospital Receives and Administers First Doses of Its COVID-19 Vaccine Supply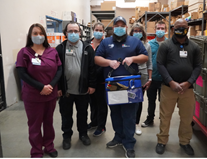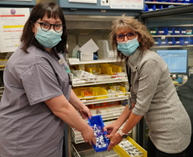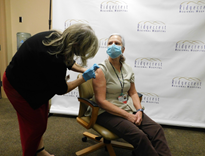 Wednesday, December 23, 2020, RIDGECREST, Calif. – Emergency and Urgent Care provider, Kelly Doty, FNP, PA-C, was the first person at Ridgecrest Regional Hospital (RRH) to receive the Pfizer-BioNTech COVID-19 vaccine on Tuesday, December 22, 2020, shortly after the first vaccine shipment arrived at the hospital.
Doty said, "Being first does not matter to me. What matters to me is that enough people will get the vaccine to resume a normal life." As Doty received the vaccine, she was met with applause and cheers by those in line to be vaccinated.
RRH received its first shipment of the Pfizer COVID-19 vaccine Tuesday morning at 8 AM from Kern County Public Health. The vaccines were taken to the RRH pharmacy where they were processed and validated for inventory, stored and prepared for the first round of vaccinations. RRH was able to accept this initial shipment through careful planning and allocation of the vaccines, which can be stored for 5 days under refrigeration at 2-8° C conditions.
Following the COVID-19 phases of vaccine allocation, as outlined by the county and state, RRH began its vaccinations for Phase 1a healthcare workers. Amongst the workers receiving the first-round of vaccinations were the hospital's inpatient nursing, emergency room and key medical staff, as well as the hospital's EMS providers at Liberty Ambulance. Over the next few days, the hospital will be holding several vaccine clinics to administer the remaining first supply.
"The vaccine couldn't have arrived at a more desperate time for our community," said Jim Suver, RRH President/CEO. "We are currently witnessing a second surge with positive results rapidly increasing in and around Ridgecrest. There is likely still a long road ahead, but the arrival of the vaccine gives much needed hope to our healthcare staff and the patients they are caring for."
RRH is also set to receive its first shipment later this week of the FDA's second approved vaccine by Moderna. With normal freezer storage requirements at -20°C, the Moderna vaccine is set to be the likely option for RRH as a critical access hospital, based on size and storage limitations.
"A tremendous amount of planning has gone into getting ready for this," said Michelle Whalley RRH Administrator and Vaccine Task Force Leader. "We were one of the first organizations to register successfully to receive first distributions of the vaccine in our county and witnessing it arrive here on campus was a momentous achievement. It's the first step to stopping the spread of this pandemic, and I am truly honored to be part of the team rolling this out at our community hospital. We will continue to keep the community updated as more information becomes available on supplies, allocation phases and when the vaccine will become more widely available. Until then, we're prepared and ready to place more vaccine orders, as supply becomes available for upcoming phases."
For more information, you can visit the dedicated "Vaccinate Kern" site at: https://kernpublichealth.com/coronavirus-vaccine/ or the RRH site at: rrh.org/covid19vaccine.