Bella Sera Celebrates First Graduates From New CNA Program
Monday, January 27, 2020, RIDGECREST, Calif. - Ridgecrest Regional Hospital's (RRH) Skilled Nursing Facility (SNF) Bella Sera, recently launched its first Nursing Assistant Training Program. 6 students were selected as part of the first enrollment, with each one successfully graduating at the end of the course.
"Each student demonstrated commitment and dedication to enhance their education and chosen careers," said Cheryl Pullen, MDS Coordinator at Bella Sera and CNA program Facilitator. "The students had to be organized to maintain their daily employment work schedule, family commitments, as well as the rigorous Certified Nursing Assistant course. These 6 students will be of great benefit to the community of Ridgecrest and we are so incredibly proud of them."
The graduating students were:
Zoila Badillo

Allison Bates

Joanna Dantes

Maija Henderson

Lakana Panergo

Osmond Tolai
The Certified Nursing Assistant program is a fast paced program that exceeded the California Department of Public Health's requirements of Nursing Assistant Training in California including 75 plus hours of classroom/lab and 100 hours of supervised hands on clinical experience at Bella Sera, the 125 bed Skilled Nursing and Rehabilitation Department.
The Certified Nursing Assistant Program required homework per textbook and workbook assignments, and consistently practicing skills learned. The students were thoroughly trained in theory and clinical skills to provide quality care to the residents at Bella Sera. The Nursing Assistant Training program will enable nursing assistants to provide quality care for residents in nursing homes, home health, hospitals and other healthcare facilities.
Bella Sera is currently accepting applications for the 2nd CNA program, starting February 18. Application deadline is January 31. For more information and applications, contact Eddie Condie or Cheryl Pullen at Bella Sera: (760) 446-3591.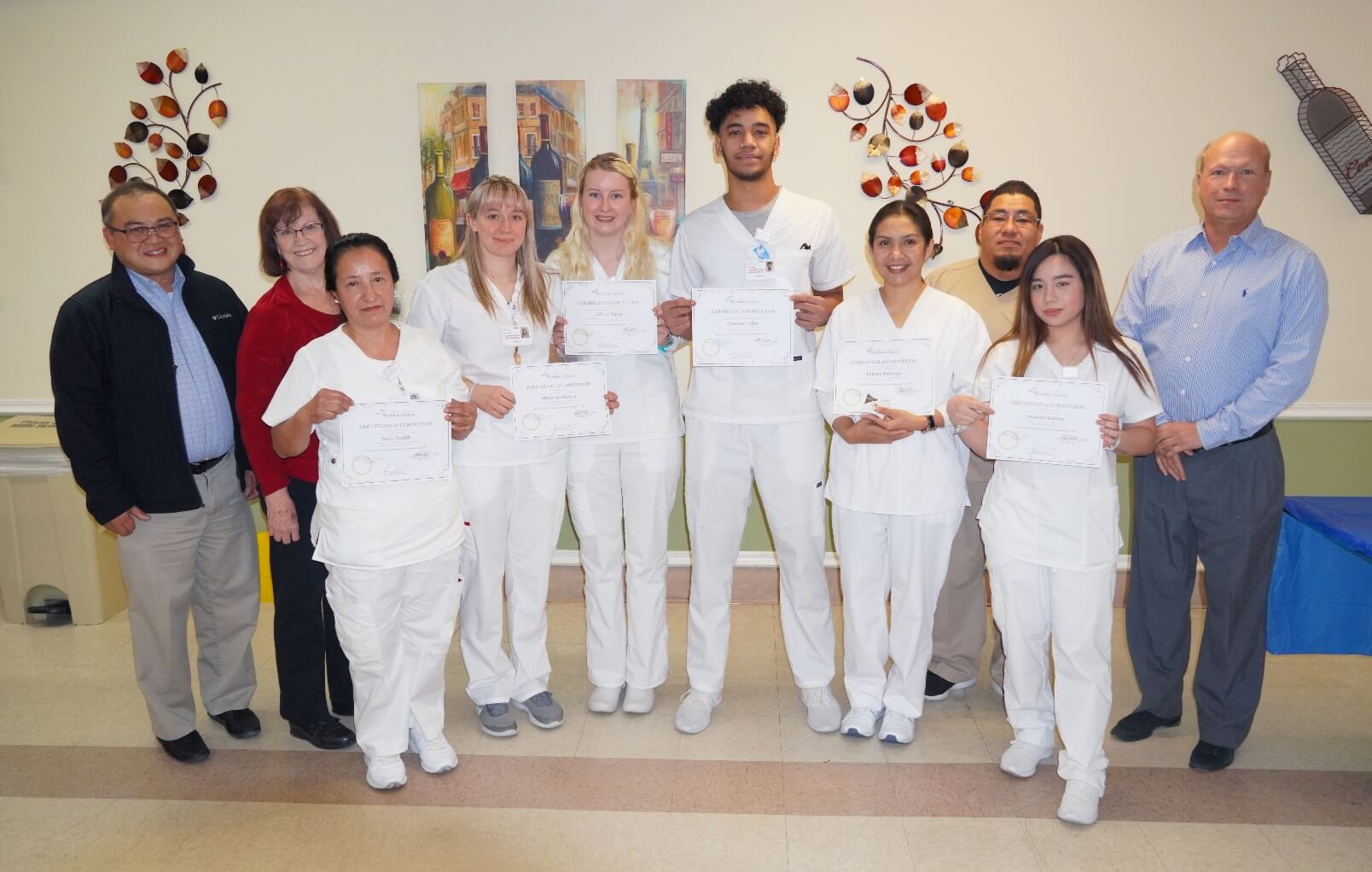 Bella Sera Staff including Administrator Christian Salviejo, Cheryl Pullen, Eddie Condie and RRH CEO Jim Suver, celebrate with the first 6 students to graduate from the CAN Program at Bella Sera.