Meals on Wheels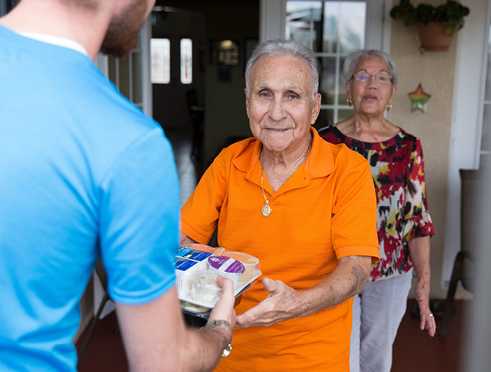 Senior Services wants to remind folks about Meals on Wheels and how one can obtain these services if they qualify. If you have any questions please call Senior Services at 760-371-1445.
Meals on Wheels
In March 1972, an amendment to the Older Americans Act of 1965 was signed which established a national nutrition program for seniors 60 years and older. Meals on Wheels America started its national March for Meals Campaign in the historic month of March in 2002, to recognize and raise awareness to Older Americans Nutrition Programs, and the increasing problem of hunger, food insecurity and social isolation.
Since the COVID-19 pandemic Kern County Aging and Adult Services Nutrition program has increased meals countywide by over 25% to meet the increased need among seniors throughout the county. The Meals on Wheels program combines nutritious meals with much needed social interaction. The meal served to Kern county seniors have 1/3 of their daily nutrition. The nutrition driver is often the only outside contact the senior may have that day and helps to relieve isolation by providing a social interaction including a wellness check on our vulnerable seniors that we deliver to. To submit a referral online: https://www.kerncounty.com/government/aging-adult-services/services/senior-nutrition/senior-nutrition-intake-form
HOME DELIVERED MEALS CRITERIA FOR ELIGIBILITY
¨ Must be 60 years of age.
¨ Frail, or have a medical condition whereby the task of preparing meals is difficult or could cause bodily harm to the senior (i.e. Parkinson's disease, stroke, brain injury, Alzheimer's.)
¨ No assistance in the home from family or caregiver.
¨ Isolated/homebound, limited or no driving.
¨ Physician's recommendation is helpful, although not required. (Therapeutic diets not provided.)
ACCEPTANCE INTO THE HOME DELIVERED MEALS PROGRAM IS BASED ON AVAILABILITY all referrals must be submitted online: https://www.kerncounty.com/government/aging-adult-services/services/senior-nutrition/senior-nutrition-intake-form
All referrals made must include the following information:
¨ Name of Senior
¨ Date of Birth
¨ Address of residence, including zip code
¨ Contact phone number
¨ Currently receiving IHSS, if yes, name of provider
¨ Medical Ailments
¨ Brief reason for referral
¨ Primary physician's name and contact information; phone & fax numbers
¨ Number of people residing in the home and relationship to the senior
DIRECT QUESTIONS AS FOLLOWS: 661-868-0902
Suggested donation for meals is $3.00, however, no eligible participant will be denied service because of a failure or inability to contribute. Additional information is available at www.co.kern.ca.us/aas.